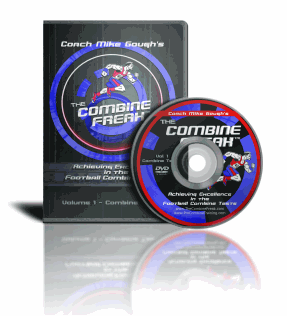 Combine Freak DVD – Football
Get our best selling Combine Freak DVD that teaches you step by step instruction how to perform the football combine tests properly. The DVD goes into great detail on the 40 yard dash, short shuttle, 3-Cone shuttle, vertical jump, broad jump, bench press, flexibility tests, shoe selection, thought processes, and much more!
This DVD outlines what Coach Mike Gough teaches his athletes that are preparing for the NFL Combine go through to maximize their Football Combine Performance.