Back
Sports Performance Training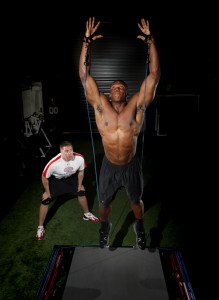 Athletic Edge provides sports performance training for athletes that are based on the individual athletes needs along with the demands of your specific sport. Our goal is simple, to improve athletic performance and decrease the risk of injury. We achieve this by using cutting edge training methods along with motivating the athlete to push to their limits.
These programs focus on building strength, power, speed, quickness, and endurance specific to each sport and athlete, while creating greater mobility and flexibility to decrease injury potential. While we want to achieve performance enhancement, often corrective exercises are implemented to allow the athlete to overcome physical weaknesses which will allow them to increase their functional movement.
Individualized Training
Our sports performance training is tailored to the individual athlete's specific needs. Before starting training at Athletic Edge, each athlete is assessed with a Movement Screening, body composition, strength, power, flexibility, aerobic and anaerobic testing . In addition a nutritional profile is used to see if the athlete is fueling their body properly. This allows us to provide a complete training package for each athlete that assists in targeting specific training and nutrition practices that get RESULTS!
Education
Our goal is not only to support the athlete while training at Athletic Edge, but support them year round, in-season and off-season. By educating each athlete on training, technique, nutrition and recovery the athlete will have the knowledge to make good lifestyle choices away from home. This will enhance their in-season performance and post career lifestyle.
World Class Facility
Athletic Edge offers each athlete the best training equipment and technology that delivers superior results. We offer world renowned equipment from Keiser, Woodway, HITrainer, PowerMax, Power Lift, TRX, MicroGate Timing, and OPTOJUMP.